I know it seems like I fell off the face of the earth but I'm back!
Quiet honestly, I was so busy and exhausted that I had no energy to blog, ever.
Week three in Georgia was filled with craziness of visiting family, having family visit us and having meals with as many people as we could include.
Here are some photos from the third week we spent in Georgia.
These two have personality for days!
The girls finally started sleeping really well and waking with some serious bed head!
I had a fabulous girls night out with my dearest friends from high school.
We went to a place called Fish Thyme and Oh My Gosh! The food and sangrias were to die for.
I really love a unique restaurant.
Cousin love in an adirondack chair.
My favorite picture from week 3.
The girls loved to play outside with their older cousins.
We had several beautiful days for outside playing!
We enjoyed everyone we got to spend time with and feel so blessed that we had the opportunity to do so.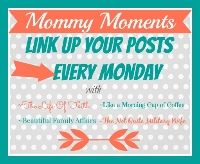 Mommy Moments
with Faith
Mingle Monday
with Meg
Add a comment »