I have been out of touch over the last few weeks. I'm alive so no worries!
Life has been full of ups and downs during that time and, honestly, I just didn't have time to blog.
Once we returned from Georgia we had one week of health and prep-time for moving before I came down with a severe case of bronchitis. It has been such a long time since I've been sick that it took me out for the count making life extra difficult since Josh was away at his new job.
Despite the fact that I washed my hands five-bazillion times a day, the girls still got sick.
They have been pitiful for over a week and I still have a lingering cough. On Friday we were told they have pneumonia and today the movers come to start packing us up. This should be interesting!
I did everything I could to make them happy while trying to function at a semi normal level last week.
But at the end of the day snuggles were all they wanted.
We had two amazing days last week and we went on a few wagon rides. The Zabies were instantly happy the moment we walked outside. They are outdoorsy like their daddy!
Thankfully, everyone was feeling a little (kind of) better by the time supper time rolled around on Easter Sunday.
We spent it with our sweet neighbors who are our New York family.
We love them dearly!
Kensington didn't nap all day and this was what happened when her normal bedtime rolled around.
Nothing completes a Syracuse Easter like Daddy's snow boots.
Our sweet neighbors! The girls adore them!
This year I used a book to help the girls understand the reason or the season.
How did you explain it to your kiddos? Any fun activities to help them understand?
I hope everyone had an amazing Easter!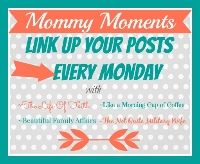 Mommy Moments
with Faith
Mingle Monday
with Meg
2 Comments »