Last Thursday the Moms in our regular play group had a Ladies Night Out. We do this monthly and it is so nice to get away from the hustle and bustle of the "to-do" list of keeping everything running smoothly in our home with twins. My guy usually takes care of it all. Everything. All I must do when I get home is go straight to bed. It's great and a nice break.
This month our Ladies Night Out was Christmas themed like everything else we have done recently. It was full of exchanging festive holiday treats, exchanging gifts, eating at a swanky little restaurant and enjoying drinks and great conversation.
I made one of my all time favorite holiday treats to share with the gals.
Salted Caramel Pretzel Bark. Oh my YUM!
½ bag of mini pretzel twists
2 sticks of butter (1 cup total)
bag of chocolate chips (2 cups)
First you melt your butter and brown sugar on your stove top until it starts slightly boiling but not sticking to the bottom. Stir frequently to prevent sticking.
While you are waiting for your caramel to cook (while stirring frequently) arrange your pretzels on your pan that is usually lined with wax paper. I forgot this step and ended up breaking a wooden spoon trying to get this stuff out of the pan the next day. It wouldn't be a fun holiday of cooking if everything went perfectly, right?!
Then you pour your hot caramel mixture over the top of the pretzels as evenly as possible and pop into the oven for 5 minutes at 350 degrees.
When you pull it out sprinkle your chocolate chips to the top and then pop back in the oven for one minute. When it's done use a spatula to spread the chocolate evenly. Sprinkle with Salt and VOILA!!!
The perfect combination of Salty and Sweet!
Place in the freezer for at least 3 hours, I usually do overnight.
(Hence the breakage of a wooden spoon getting my unlined, frozen pretzel bark out of the pan! Oops!)
I packaged them in tins so that it was easily refrigerated.
This is a must have during the holiday season as far as treats go. What is your must have treat?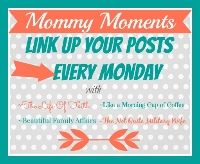 Add a comment »